New Toppings to Try at Your Favorite Pizza Restaurant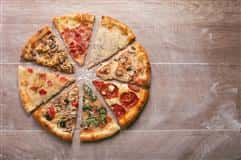 When you order pizza from your favorite pizza restaurants, you order the same topping, and never try any new combinations of toppings. It's time to try some new toppings just to add variety to your pizza. There are many different vegetables, meats, cheeses, seafood, and herbs that can be added to the pizza. According to Times News, over 62% of American consumers prefer to put meat toppings on pizza and 38% prefer fresh or frozen vegetables.
Vegetarian Pizza For A Change

Vegetarian pizzas are healthy and come with red sauce, white sauce, and cheese. They are custom-made most of the time. A Margarita pizza is the classic vegetarian pizza with basil, sliced tomatoes, and mozzarella cheese. A Florentine pizza uses spinach, red or white sauce, ricotta, mozzarella, or parmesan cheese. Some varieties of Margarita pizza use pesto sauce with toppings. Vegetarian pizzas have a combination of fresh vegetables with red or white sauce. A very popular combination is peppers, onions, and mushrooms. Pizzas that use dried and cherry tomatoes, eggplant, red onions, assorted herbs, and garlic have increased in popularity.
Meat Toppings

Poultry has become a popular topping over the last few years, especially chicken. We now have barbecued chicken pizza, which has barbecue sauce, jalapenos, onions, and cheese. You can order a buffalo chicken pizza with spicy buffalo sauce, chunks of chicken, and cheese. Chicken pizza can have cheddar cheese and be similar to a Tex Mex Recipe. Some of the most popular meat toppings on pizza are bacon, pepperoni, sausage, prosciutto, and hamburger. If you like meat, have you ever tried your local pizza restaurant's meat pizza special?
Many restaurants now make a cheeseburger pizza with cheese or meatball pizza with a variety of ingredients. How about bacon and spinach pizza or BLT pizza? Create a pizza with your favorite meat topping and vegetables.
Seafood Toppings for Pizza

One of the most popular seafood toppings is clams and shrimp. Red clam pizza with red sauce, and mozzarella is tasty pizza for those that like seafood. Clams' casino is a pizza with bacon, white sauce, and cheese. There are many varieties of shrimp pizza with red or white sauce, scampi style, chilies, garlic, and barbecue sauce. Some restaurants have lobsters and tuna pizzas with different toppings.
These are some new toppings to try at your favorite pizza restaurants this year. Why not call them or stop by and try some new toppings?